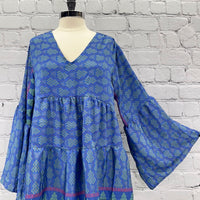 Billowy and romantic, this buttery soft blouse features a v-neckline and bell sleeves. Made from vintage rasgulla silk saris.
Available in 3 sizes*
S  6-10

M 12-14
L 16-18
Approximately 30" long

*Tags were updated with new size designations. Blouse measurements did not change. Some tags will reflect the previous sizing designations.

Tag changes are as follows…
S/M to S
L/XL to M
XXL to L
Care Instructions:  Hand wash and line dry for longest life.
Disclaimer:  The material used in this style is repurposed, vintage material.  Small imperfections may be present.  Fabrics may have small threads or holes in the layers. Small stains may be found.