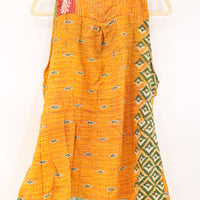 Our Blossom Vest is a simple way to add boho style to any outfit. Made from vintage saris, these beautiful kantha stitched cotton vests feature deep pockets  and a minimalist design. 
This is a "one size" style. Approximately 33" length. 

Care Instructions:  Hand wash and line dry for longest life.

Disclaimer:  The material used in this style is repurposed, vintage material.  Small imperfections may be present.  Fabrics may have small threads or holes in the layers. Small stains may be found.